THE MIAMI CIRCLE
A hearty T H A N K Y O U !
To Miami-Dade Executive Mayor Alex Penelas
and the Miami-Dade County Commission,
by their fortitude and courage to persevere and their vote on Nov. 29,
Miami's MIRACLE Stone Circle Site (Fl.)
was saved on the deadline date of Nov. 30, 1999.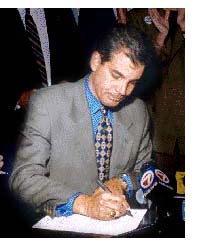 Discovery of the Miami Circle has presented us with a unique opportunity to physically connect to our past as we look toward our future. Such an opportunity is indeed quite rare, and presents us with a responsibility to do what is right while balancing public policy interests.
The Miami Circle may be one of the most important Native American archaeological discoveries in South Florida, and perhaps North America. As such, I would like to see the site preserved for future generations. Items of historical significance are monuments to our forefathers and legacies to our children.
I believe that we must explore all available options to keep the Miami Circle at its current location. It is clear that the Circle is not only of great importance but also of great cultural and historical significance. Accordingly, we have created a Miami Circle Task Force that is investigating our options to maintain the Circle in its current location.
I urge you to join the Save the Circle Campaign. Without doubt, we have an opportunity to preserve a piece of National History for future generations to enjoy, study and learn from.


Return to
MIAMI SAVE THE CIRCLE



CONTENTS


Thank you for your time and consideration.
For more information please email us at: visionearth@aol.com


TO ORDER BY MAIL: Please made Check or Money Order PAYABLE to:
VISION EARTH -- SAVE THE CIRCLE
1825 NE 149 Street
Miami, Florida, USA 33181
FAX: 305.945.0300
OR CALL 305.945.6666
OR 800-4-CIRCLE (800-424-7253)